Sell Your Business or Expand Your Franchise Today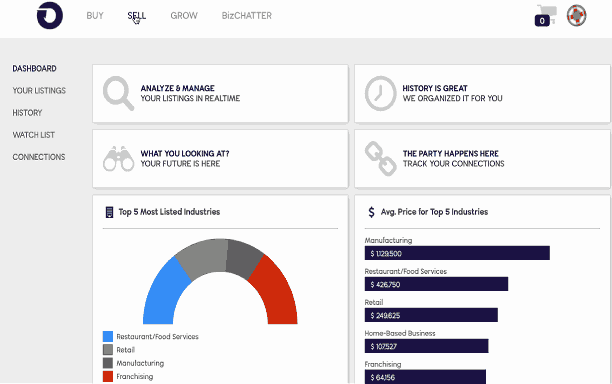 Promote the Sale of Your Business or Franchise
Risk Free
We are so confident in our service that we have a No Hassle Risk Free Guarantee.
If you are not satisfied with the performance of your listings, let us know within 30 days of your order and we will give you 100% of your money back.
You have nothing to lose but opportunity! Become a member today and see what makes us different.
Why Would You
SELL

An Existing Business?
Retirement
Ready for a New Challenge
Strong Buyer Interest
Lack of Resources
Personal Exhaustion
Start Selling Today!
One of the first things that should attract you to selling your business on our marketplace is our no risk hassle free guarantee. The confidence that we have in our abilities to list your business or franchise and match it with an enthusiastic buyer is so strong that we will give you 100% of your money back after 30 days if you're not completely satisfied. There are no strings attached and no fine print to read. Just the overwhelming certainty that we can be the vehicle to sell your business for you at the price you want.
Shifting Tide
The tide of business is shifting as the boomers leave and the Millennial's accept the opportunities handed to them. It's an unprecedented generational business shift and we are here with the kind of help you need to sell your franchise or business professionally.

It's important to us to be your one-stop shop and innovation partner when you're looking to sell and to that end we offer a free valuation and benchmark through one of our professional representatives. It's our way of starting off on the right foot and showing you how we can help your business rather than just telling you all about the things we can do.
Engaged Marketplace
You might be retiring or changing your lifestyle. It doesn't matter because we are here to help you plug into an engaged marketplace where you will find the serious buyer that you are looking for. We're here to help you along with the process every step of the way and that includes mediating the buyer/seller relationship so that you'll only get qualified and serious applicants contacting you.
Technological Arrows
We've also got more than a few technological arrows in our quiver that are meant to impress even the most discerning business owner. First and foremost, the listings that we create are compatible with all of the social media platforms you need to be seen on. Getting the exposure you need on Facebook, LinkedIn and Twitter is as easy as signing up and generating an asking price in only seconds.

Because staying in the right ballpark is important especially when you decide to sell online, we are also front and center when it comes to listing all of the average asking prices for the businesses in your specific industry. Leveraging technology and outstanding customer service is complemented by the access we provide to business professionals and resources.

Selling your business has never been more hassle free than it is with us. Why not get started today?
Get Connected with Serious Buyers!
Whether you are retiring or experiencing a lifestyle change, our marketplace helps you easily promote the sale of your business.
Get Started
Franchises: Extend your Sales Force.
Get access to a community of qualified and experienced business owners who can give your franchise the best opportunity to grow.
Get Started
Are you a Broker, Realtor, Accountant or Lawyer?
Help your clients sell their business stress & hassle free!
Get Started
Our goal is to create an engaged marketplace filled with serious and qualified buyers.

Did you know...
Our marketplace mediates buyer to seller connections to help protect you against unqualified buyers.
40% of connections between buyers & sellers within our marketplace lead to a successful purchase and sale.
How to Sell a Business or Franchise
Features You Want
Dashboard
Manage, edit & track your business for sale listings in real time.
List in 5 Minutes
Create, save & promote your business or franchise for sale within 5 minutes.
Multiple Listings
Easily create and replicate multiple listings. Multi-listing discounts apply!
Digital Leverage
Listings share easily to Facebook, LinkedIn, Twitter and via email for further exposure. Also, promote your listings with your own landing page or widgets for an existing website.
Quick Business Valuator
Generate an asking price in seconds.
Benchmarking
See what the average asking prices of businesses and franchises are in specific industries.
Business Support
Have access to professionals and resources that can help you with the most pressing questions or concerns.
BizPERKS
Have access to exclusive perks & deals from top vendors that can help you grow your business or franchise.
BizCHATTER
Engage with business owners, franchise owners, entrepreneurs, brokers & professionals by sharing content & asking questions.